TimeStory 2.5 Release Notes
April 27, 2021
Make your timelines more informative, attractive, and unique, by using your own icons to mark points in time! Save commonly-used document layouts as templates, for quicker new-document creation. And, of course, enjoy other fixes and improvements throughout the app.
Use your own icons for point events
Starting with 2.5, you can now add any symbol or image you want to TimeStory, and use it just like one of the built-in icons to mark a point in time.

In the rebuilt Icon Picker, the "TimeStory Icons" section contains the built-in, always-available set. "My Icons" starts out empty, but you can add your own from the new icon window: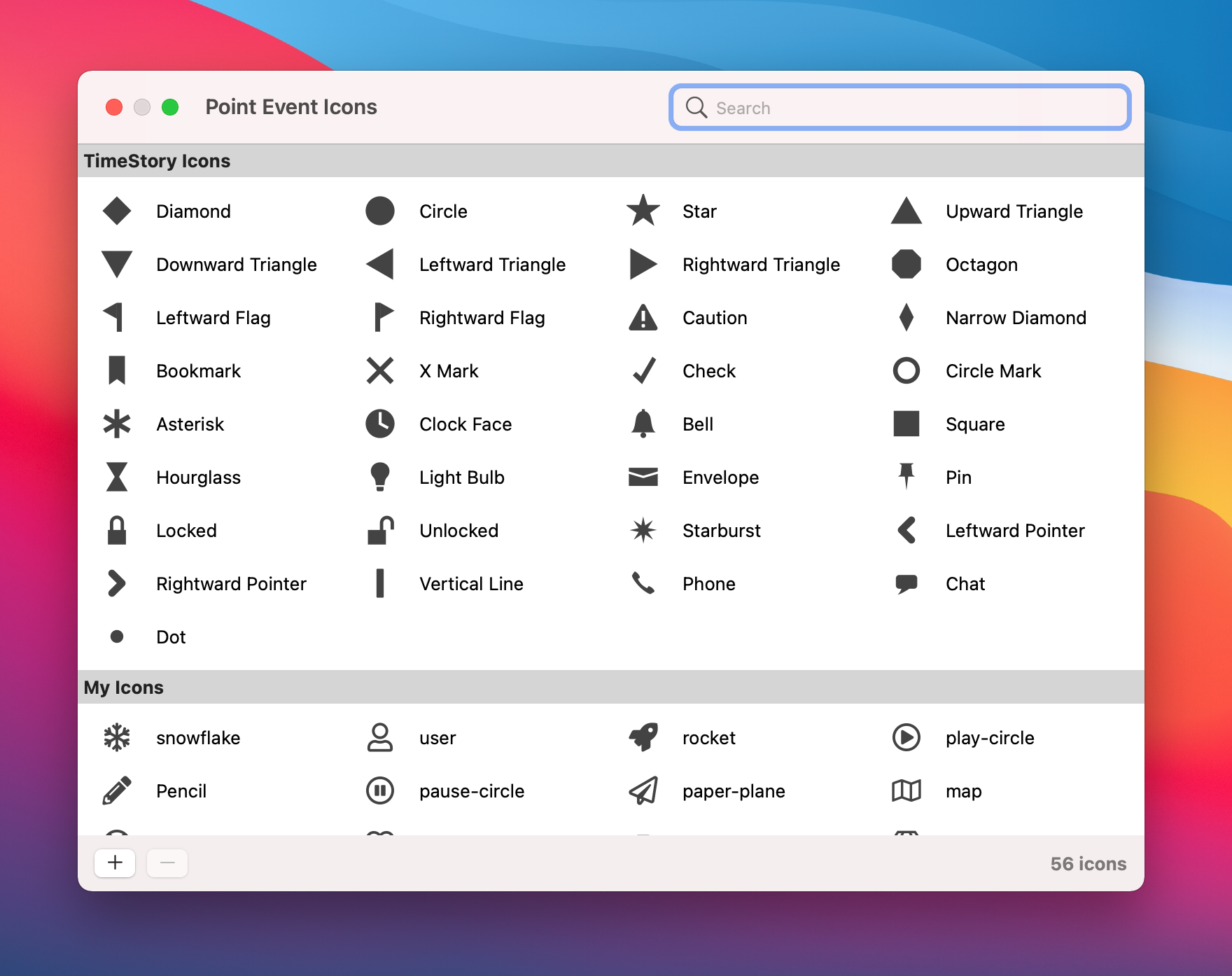 When you save your document, it embeds copies of any icons you use, so it will look the same if you send it to someone else, or even if you later delete those icons from your own custom set.
If your icon is a simple, flat symbol, you can set its color with the Event Inspector like always. But if it has its own, built-in colors, you can choose to just use it as it is.
The TimeStory icon library can handle thousands of icons without slowing down. Each icon gets a user-editable name, and the interface offers a search field to quickly find the one you want. Use image formats like PNG or use vector images in the SVG format, for maximum flexibility to create your own or download them from the Web.
And finally, TimeStory now lets you adjust the size of each icon in a timeline individually. (By default, they all still use the common, document-level setting, as before.)
Create reusable document templates
If you often need to create documents with the same sections, layout, or styles, you can use the new "document template" feature.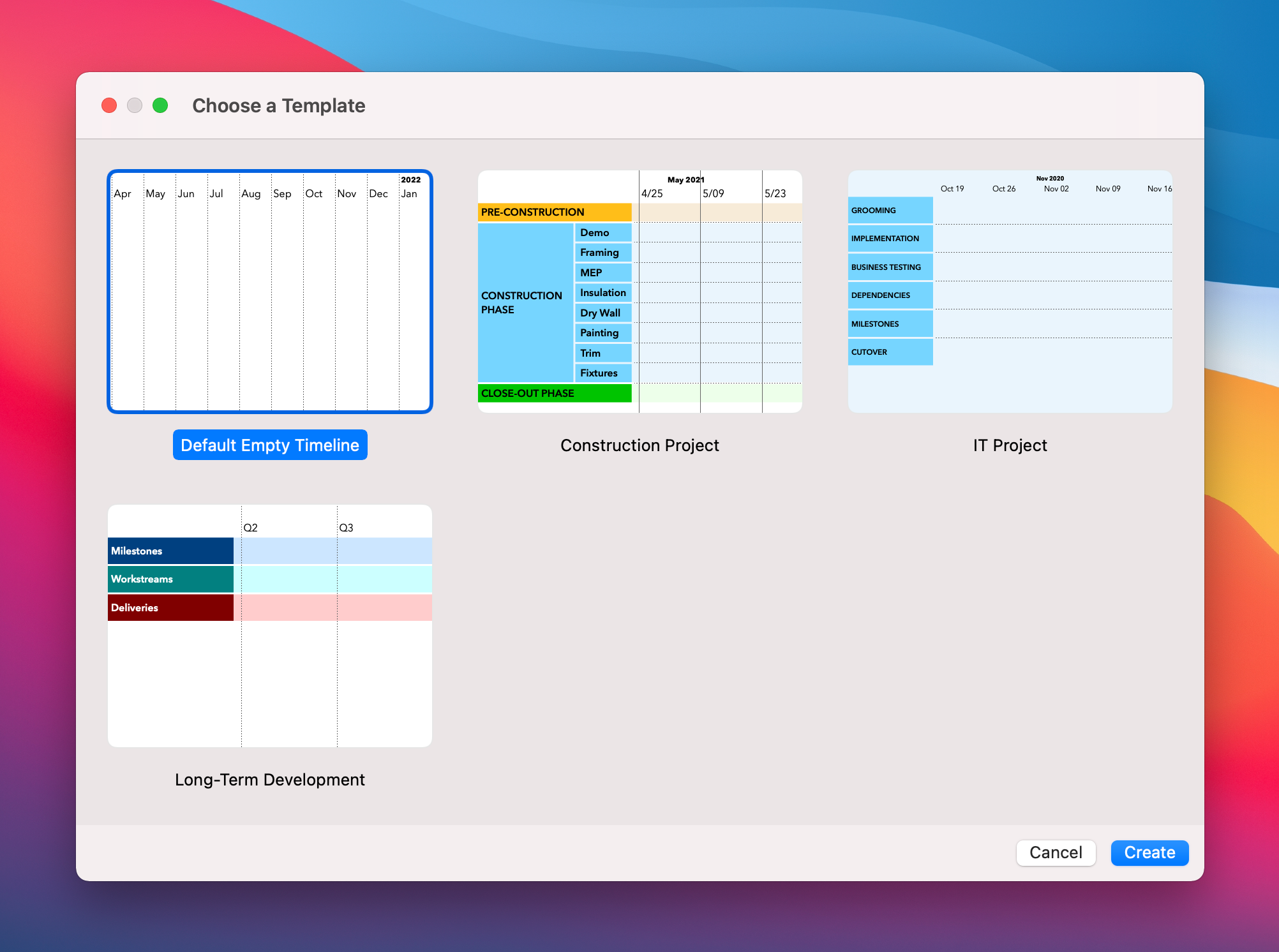 Set up your document how you'd like it, and choose File > Save as Template. This template will contain everything—any sections, events, colors, or styles—and will now be available from File > New from Template as a quick starting point.
(TimeStory 2.5 comes with "Default Empty Timeline", which creates the same basic empty timeline that File > New does.)
… and more!
2.5 includes a grab bag of smaller improvements and bug fixes. I've been working on this for quite a while!
If you're regularly opening documents to track or update current tasks and projects, you can enable a new preference to always center newly-opened documents on today's date (instead of restoring the last-viewed time range).
The pop-up calendar for date picking has been magnified. (It's still the standard Apple-designed macOS date picker, just a bit bigger.)
The right-click menu below the last section in a document now offers New Section, which creates a new section at the end.
Reduced the minimum padding on either side of the event title within an event, allowing, in many cases, a few more characters before cutting the title off…
Fixed an issue where using the arrow keys to push an event up into the top row could cause the timeline to unexpectedly scroll.
Fixed some bugs that occurred if you hid every subsection of a section. This now correctly hides the outer section, and does not incorrectly narrow the left-side header area.
Fixed a slight delay in switching Inspector modes. This delay was not normally noticeable, but it could cause a visible jerkiness while using the mouse to select a rectangular region.
Fixed a problem that could sometimes add unwanted borders or lines on left-side section headers on non-Retina displays at non-100% zoom levels.
If you had a mix of sections and subsections, and some of them were hidden, and you used the up/down arrow keys to move an event vertically on the timeline, it was possible for that event to disappear into one of the hidden sections. No more.
Undo and Redo are now blocked while you're in the middle of placing a new event or section. Previously, they would work, and undo or redo the last action you took, which was very confusing as you were still in the middle of a new action.
Searching for a word via the Event Filter now correctly searches the contents of tags, as well as the contents of titles and descriptions.
When tagging an item in the Inspector, you can now use semicolons (;) as well as commas (,) to separate tags.